We meet PlaidCrafter, the mastermind behind Sweater Surgery and Craftside who loves altering clothes.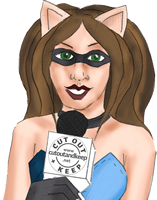 Featured Member Interview
How did you find CO+K and why did you join?
Wow, I'm not sure how I found CO+K (I've been a member for 5 years, probably the almighty Google. I joined because I loved what others were sharing and I like to share my creations and tutorials so fellow crafters can make my creations (or at least be inspired by them and make their own spin).
---
What projects are you currently working on?
I always have my altered book on hand, I write quotes in 2 quote books that I play with lettering styles and fonts, I try to make a piece of jewelry each week and lately I have been making banners and pennants to decorate for each holiday and my table at craft events. Oh does mending count?
Stats
Joined

August 15, 2008

Location

Los Angeles, California, United States

Projects

115

Featured Projects

8

Favorited

3722 times
What does your craft space look like?
My craft space is my entire property! No space left behind. I create everywhere from my dining room table (a cool 1950's vintage Formica and chrome set) to my back yard where the big messes happen! My kitchen counters are more likely to have a craft project on them then a meal.
---
Which tool or craft supply do you use the most?
Oh that is easy-scissors!
---
What do you craft along to?
I am all over the map on that one, when I get board with my own playlists (an eclectic mix of rock, rap and country) I type in a song to Pandora and let the new music flow! If the TV is on reruns of prime time tv comedies. You can't go wrong with jokes and laughter.
stefanie's Most Popular Projects
Favorite Craft
I love altering clothes. I rarely make a garment from scratch. I can find clothes easy but they usually need to be cut smaller to fit. Or I like the graphics on big men's T-shirts and they can easily be sewn into little dresses and tops or used for appliques on jackets and skirts.
stefanie's Top Crafts
If you could learn one new craft or make anything, what would it be?
Painting. I haven't had the time to paint a BIG painting since college and I would love to take the time to try new techniques and tutorials to just create art. As much as I love all my practical, clothes, jewelry, greeting cards, and decorating I would love to have a bit more time just to make art. But I get my fix by supporting other artists and buying their art.
---
Who are your crafting heroes?
That's really everybody! I give props to anyone who has the courage to make something and then share it!