We head to Colchester in England to meet Vicky Ninja who has been a crafter for as long as she can remember.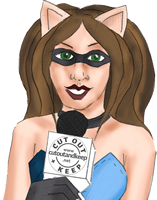 Featured Member Interview
How did you find CO+K and why did you join?
I found CO+K through a friend of mine, I think it was back in High School. I don't remember the exact circumstances because it was a long time ago! But I remember it being around the same time that I started making cosplays for myself, and that probably had quite a large part to play in me joining the site!
---
What projects are you currently working on?
I always have about a million projects going on at once! At the moment I am working on a Prince Gumball cosplay for my boyfriend, multiple pairs of cute hold-ups and the continuation of my degree project. Those are just the projects I can remember! No doubt I'll find more in the bottom of a drawer somewhere!
Stats
Joined

April 25, 2008

Location

Colchester, England, United Kingdom

Projects

44

Featured Projects

2

Favorited

1516 times
What does your craft space look like?
I don't really have a craft space at the moment! I'm incredibly disorganised and even though it's been nearly a year since myself and my partner moved into our flat our craft room is still a bomb site! So I move between my bed, the sofa and the dining table depending on the task and what my partner is working on at the time.
---
Which tool or craft supply do you use the most?
Definitely my sewing machine and fabric! I'd be completely lost without my sewing machine even though we have a crazy love/hate relationship going on (I love it, it hates me!) As for fabric I use everything, there's no specific type of fabric I prefer over others and I've learned a lot recently about different types of fabric so I feel confident in using many different types. I do love flocked fabrics though!
---
What do you craft along to?
I usually stick the tv on and craft to whatever happens to be on! I like things that I don't have to pay attention to, but I also watch craft related shows on demand - at the moment it's Kirsty's Fill Your House For Free and The Vintage Clothes Show!
Vicky's Most Popular Projects
Favorite Craft
I think I enjoy sculpting little things the most, but I very rarely do that since I like to make things that I will actually use - that almost always means sewing. I do enjoy sewing but it can be incredibly frustrating at times. I don't really have a 'favourite thing to make' since I tend not to repeat projects; being a cosplayer does mean that I make a lot of costumes so I suppose that could be classed as a favourite!
Vicky's Top Crafts
If you could learn one new craft or make anything, what would it be?
I'm currently trying to learn to use 3D modelling software in the hope of being able to 3D print some creations in the future. 3D printing is a bit of a threat to craft so I feel a little bit ashamed of my interest in it, although I think that if you spend the time finishing the product by hand (sanding etc, I really want to gold leaf some of it too!) then it can be counted as a craft? I would love to learn about armour making for costumes too, I am planning on making Garrus Vakarian and Tali Zora cosplays for myself and my boyfriend, so I'm hoping to be able to learn before I attempt those! I don't think there should be a 'could learn', only a 'will learn'.
---
Who are your crafting heroes?
I don't really have anyone that I look up to craft wise, I tend to admire everything by everyone without having a 'hero' of sorts. Although I do very much look up to Cat for building such a wonderful site where we can all share and help each other out!