We meet Pramodini Arela today, a crafter who loves sewing and dressmaking.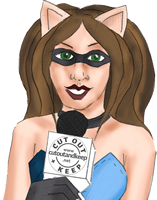 Featured Member Interview
How did you find CO+K and why did you join?
I actually can't really remember how I found CO+K. I want to say that I found it through watching Threadbanger, but I am not certain. It is actually because of Threadbanger that I wanted to get more involved in the crafting community and so I decided to do it through CO+K.
---
What projects are you currently working on?
Since I just moved, I haven't really been working on much. But before that, I was really into T-shirt reconstruction and did a number of those, many of which I haven't uploaded yet.
Stats
Joined

August 13, 2009

Location

San Diego, California, United States

Projects

54

Featured Projects

2

Favorited

485 times
What does your craft space look like?
My craft space is pretty much my bedroom desk, which holds my sewing machine, and floor, which is my cutting space. I would love to show you pictures, but i recently moved and don't have it set up yet.
---
Which tool or craft supply do you use the most?
I probably use my sewing scissors and sewing machine the most. Second to those would be my hot glue gun.
---
What do you craft along to?
When I craft, I usually just turn on Pandora or open my Grooveshark playlist. But other times, I "watch" one of my favorite movies.
Annie's Most Popular Projects
Favorite Craft
My favorite type of craft is definitely sewing and dressmaking; I especially love remaking old clothing into something new.
Annie's Top Crafts
If you could learn one new craft or make anything, what would it be?
If i could learn anything, I think I would want to learn glass blowing. It is such an amazing art, but is quickly dying out because of manufacturing.
---
Who are your crafting heroes?
I absolutely love Rob and Corrine from Threadbanger since they are the ones who really got me started. I also love Secret life of a Bionerd and Anne or Shine.