We head to London to meet #FeaturedMember Rachel Chaters who loves art, crochet, sewing and cooking!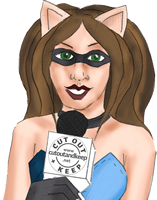 Featured Member Interview
How did you find CO+K and why did you join?
i found it on facebook and i love making things
---
What projects are you currently working on?
i am about to begin one using dowel wood but not sure yet
Stats
Joined

October 13, 2013

Location

London, United Kingdom

Projects

7

Featured Projects

3

Favorited

98 times
What does your craft space look like?
i mainly use the floor as it makes me have more space and i have wooden pots which i brought with my stationary in and a basket with other bits
---
Which tool or craft supply do you use the most?
glue ,pencils,pens ,paper and rubber
---
What do you craft along to?
music and films and having the tv on in the background
Rachel 's Most Popular Projects
Favorite Craft
i like anything that creative but mainly art ,crochet,sewing and cooking
Rachel 's Top Crafts
If you could learn one new craft or make anything, what would it be?
i would love to mosaic or match stick crafts
---
Who are your crafting heroes?
i haven't thought about this but i crochet a lot but not my patterns but a person from the crochet crowd called mikey