Arrr, Pirate Swap!
Arrr! Ahoy there me hearties! As the official talk like a pirate day was on the 19th I think it's a good time t' do a pirate swap, gar!

Aye, who's with me? Thar be pirates, wenches, ships, treasure chests, cap'ns, parrots, skulls, flags, tattoo's, sea creatures loads o' ideas, argh!

<b>Rules for the swap: (sorry, got t' be some…)</b>

1) Ye must have completed the newbie swap or have successfully completed any other swap.
2) Aye, ye must have at least 50 board posts.
3) Ye must keep in touch with your partner as often as possible. I'd say at least 4 times; when partners be announced, durin' the swap t' see how thin's be goin', again when you're ready t' send out and when ye be receivin' your package.
4) Please do not join if you have flaked on a swap before, if you don't have the time t' participate or if you don't have the money t' ship out (these appear t' be reasons why thin's have gone wrong in the past!

<b>About the swap:</b>

&bull; Partners can decide on how many items they wish t' make but if you'd like a bit o' help then I'd say keep it t' 4-5 items as it be gettin' closer t' Christmas, argh!

&bull; Partners be goin' t' be announced on October 4th so that gives you 2 weeks for sign ups, gar!

&bull; Ship out date will be November 1st (Monday) so that gives you 4 weeks t' create and prep your Pirate package t' be sent off. (This is quite a lengthy swap because I know thar be a few more goin' on, obviously you can ship out sooner if you so wish, AND if your parent is ready too)

<i> Aye, if you be interested in joinin' this swap then please fill out the followin' information about yourself:</i>

1) Country:

2) Be you willin' t' post outside o' your country?

Arrr, i like t' leave it at this so it encourages everyone t' message their swap partner about their likes and what they don't want t' receive in their package, that way you can get chattin' and make new friends, shiver me timbers!

C'mon me beauties let's get crafting! Arrrgh!

(Did I go too overboard with the pirate talk?
)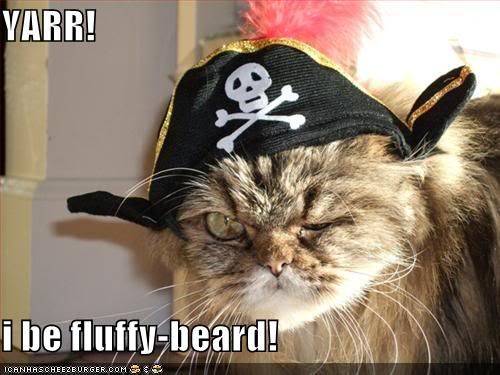 126
replies since 20th September 2010 • Last reply 20th September 2010
1) Country: UK

2) Be you willin' t' post outside o' your country? Aye
I'm impressed with your fluency in pirate talk!

1. Country: USA
2. Be you willin' t' post outside o' your country?: Aye
Aye!

1. Country: UK
2. Be you willin' t' post outside o' your country?: Aye

Well, I did have a little help from the internet
Yaar!! But I'm glad we have 3 people in the space of like 2 hours! Thanks me maties ;)
Yar Har me maties, This Cap'n Black Su'gar, has to find some inspiration before walk'n da' plank. Har' I will keep you posted.
Awww I want to join me hearties! But I have School work to do
Hmmm since post out date is ages away I guess I will use my super pirate skills to do both! Yay! Look out land lovers!

1) Country: Ye be from Van Demon's Land! (Tasmania Australia)

2) Be you willin' t' post outside o' your country? Yarrr! my package will be walking the plank!
@ Rhibi! I think you should join and be my partner! I'm not looking to make anything too big this swap as I'm pretty busy with school! plus we're both Aussies so postage would be cheap hehe just an idea!
Aw ace! Well it's like 2 weeks until I announce partners, so hopefully we'll hear back from you Rhibi! Partnering up with Zina would probably be a good idea, I would have more than likely put you guys together anyway
Arrr I be in on this treasure hunt

1) Country: I be docked in Blighty (that be the U.K. to landlubbers)

2) Be you willin' t' post outside o' your country? Arrr I'll sail the seven seas.

Now, where's me scurvy crew, we better be getting stocked up on ships biscuit and rum. Nah hold the biscuit, more rum!
*stumbles in*

Aye, i am ready t' participate in this swap, let get this goin'. Gar, Where can I find a bottle o'rum?

1.Country-Arrr, i li'e in the grand land o' Texas, U.s.a. Ye'll ne'er get me buried booty!

2.Be you willin' t' post outside o' your country? Ahoy, would like t' stay within the stateside. A fellow partner wouldn't mind my craziness. Ye'll ne'er get me buried booty NE'ER unless you ask politely.
Yay! Sug's aboard! (I don't think pirates say Yay, but I suck at pirate speak).
Welcome aboard maties!!

Definitely more rum Laurel!! Haha, "Why is the rum always gone?!"

@Rhibi ~ Will definitely get in touch
I found the cutest little treasure chests with locks and keys to put all my swap pieces is
Would it be extra mean to send the swap one week, and not send the keys till the week after? So tempting ;)
Sign up
We'd love to know what you think - Leave your reply right away
Sign up in one click using
Google
Facebook
Twitter
Or using your email address